SmartSimple/ORCID Integration Details
SmartSimple Software Inc. are ORCID members and provide a cloud-based research grants management platform.
SmartSimple support the authentication of ORCID iDs and enable researchers to pull Public and Trusted Party data from ORCID to their SmartSimple profile.
To begin integrating ORCID using your Member API with SmartSimple, contact SmartSimple directly.
For Administrators:
https://wiki.smartsimple.com/wiki/ORCID_Integration
In Integration Key Management, select one or more "Import ORCID Data" record types, to determine the set of information that will be pulled from ORCID. Under Global Setting – User Roles, select a role and check the option "Enable ORCID Import".
Enable the "Profile Model" standard field and permission for users to be able to access the ORCID data & funding charts. This tab can be re-captioned via this standard field.
For Researchers:
The SmartSimple Authentication Process and Import of Data from ORCID to SmartSimple
https://wiki.smartsimple.com/wiki/ORCID_Integration
Under My Profile – Main – ORCID, there is a description of ORCID and a button "Import Profile Data from ORCID" which enables the researcher to go through the ORCID OAuth process, retrieving their ORCID iD for the system and authorizing the ORCID member organisation to read Trusted Party data from their ORCID record. During the authorisation process, the researcher is invited to click a link entitled "Import Data Now".
Manual Importing of Data from ORCID to SmartSimple:
https://wiki.smartsimple.com/wiki/ORCID_Integration
Depending on configuration, this option is available under My Profile – Actions (or Options) – Import Profile Data from ORCID
The researcher will be presented with the option to Import ORCID data or clear the stored access token and try login again.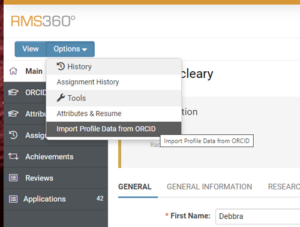 On My Profile – ORCID, two views are provided which detail the ORCID works and funding data which have been imported: 1) at a metadata level, in logical hierarchical sets, and 2) at a high level, with a chart for the funding data and in a list for the work data.
Display
After authentication, the ORCID iD is displayed on the My Profile –  Main – ORCID page
Future Plans
The current SmartSimple functionality does not enable the importing of data from ORCID into the application form, or the pushing of information on funded awards to ORCID but SmartSimple are working on developing ORCID member API integration functionality towards become ORCID certified service providers.